During our 15 years manufacturing experience in this field, Aohui Badge Gifts still find that some of customer is not familiar with the difference between finishing :black nickel and dye black when applied to world war z challenge coins,wwz challenge coins,challenge coin forbes fortnite,enameled challenge coins,covid 19 challenge coins,challenge coins usa,police challenge coins,badge 99 uid,balidan badge etc. So today we are going to talk about the difference between black nickel and dye black from the outlooking and process so it helps customer to choose what plating,what finishing to apply on your challenge coins,badges,lapel pins,medals,keychains,belt buckles etc.
Basically from outlooking,black nickel is more like grey finishing and dye black is true black as the coal itself. So if you are looking for a true black for shield badge,security badge,FBI badge,custom challenge coin,custom coins,military challenge coins,military coins,army challenge coins,us challenge coins,marine challenge coins,enamel challenge coins etc.you should go with dye black.
If you are looking for a shinier finishing for metal keychain,custom keychain,3D keyring,3D keychain,Marvel Keychain,western belt buckles,champion belt buckles,Pin buckles,Custom belt buckles,Cowboy belt buckle etc.we would suggest to go with black nickel which is look premium from outlooking and it's durable during use and it's stronger coating as well.
If speaking from process,it's 2 different process,black nickel is electroplate which takes few multiple process and it will stay longer time in plating pool and costs higher on raw material and labor,however dye black is electrophoresis which is staying shorter time in plating pool. Black nickel looks thin but stronger coating on metal surface,dye black looks thicker however is easier to take off during use. So if you are still hesitating on which finishing to use on your personalized sports medals,personalized marathon medals,personalized awards medals,personalized glitter medals,hanger medals,sliding medals,hinged medals,triathlon medals,mint commemoratives,etc.custom promotional gifts,please read our this introduction article and see below photos of both finishing,you will see the difference very clearly and make the correct decisions to achieve your ideal products.
Also as our rich experience,dye black finising is widly used on lapel pin,badge,enamel badge or custom enamel challenge coins or custom sports medals etc. Black nickel is generally very suitable for premium custom belt buckle,keychains etc. As it's more durable.However it's unnecessary to follow this rules exactly,you can decide which finishing to use on your own products per your needs.Aohui Badge Gifts is always professional to make the products that realize your ideas or make your logo or brand expressed well with our products or a good ceremonial collective coin,medallions products. Working with us,you will find a speed,reliable,cost-saving factory as a long term business partners.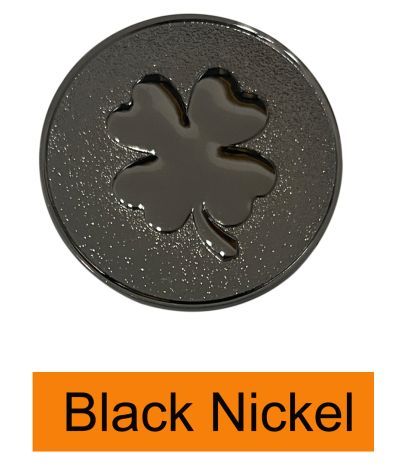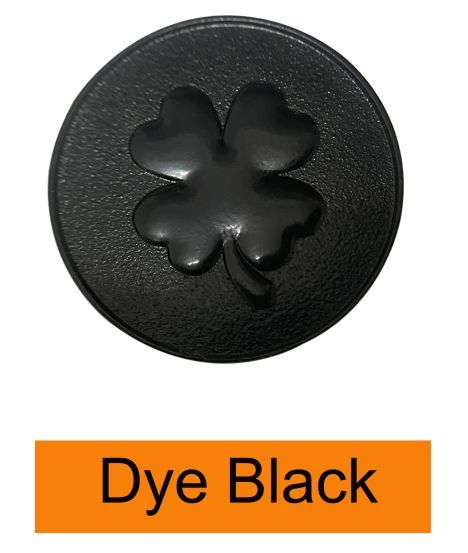 Also please see our lastest standard plating chart for our production range which can be applied on all of our products no matter it's a lapel pin,a badge,a custom challenge coins,a custom medals,a custom keychains,a custom belt buckle,a custom bottle openers,a custom bookmark,a custom cufflinks or tie clips or custom fridge magnet or custom golf ball markers etc.
We are here to serve you with 15 year rich manufacturing exprerience.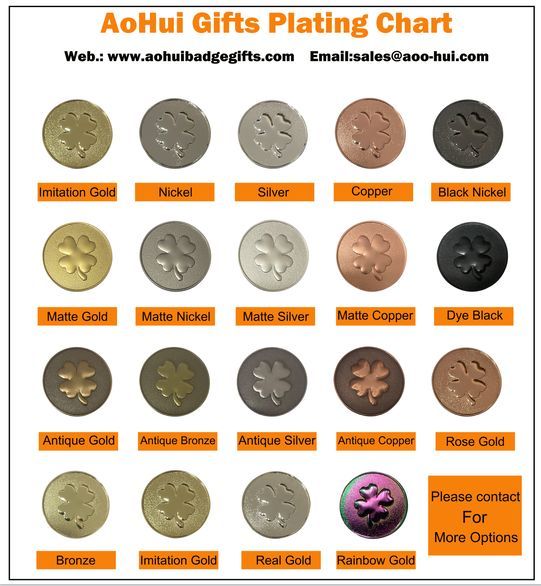 ---
Post time: Jul-11-2022