How much passionate a manufacturer can be on the products they are producing? I would say 120% which in chinese quoting means full passionate,fascinated about double sided recognition and service challenge coins,Veteran coins,Disney Coins we are producing.
Using a quote in movie"Green Book": My father used to say,whatever you do,do it 100 percent,work like you work,laugh like you laugh,and eat like it's your last meal.
This is our team's attitude to our products,to our customers,to what we are doing at daily basis and this is Aohui Badge Gifts'company culture as well.
Like the passion we put on below Custom Veteran Coins, Custom Army Unit Coins,Air Force Veteran coins etc. All kinds of custom metal challenge coins.
For example,firstly,our artist is dedicated to use his rich experiences of drawing to make the 3D logo on both side vivid,like for the gun,make all small details very vivid so it's like a real gun copy to express the message customer would like to express,even the very small details at the gun handle and spanner area. See below 2D and 3D artwork to show you the details.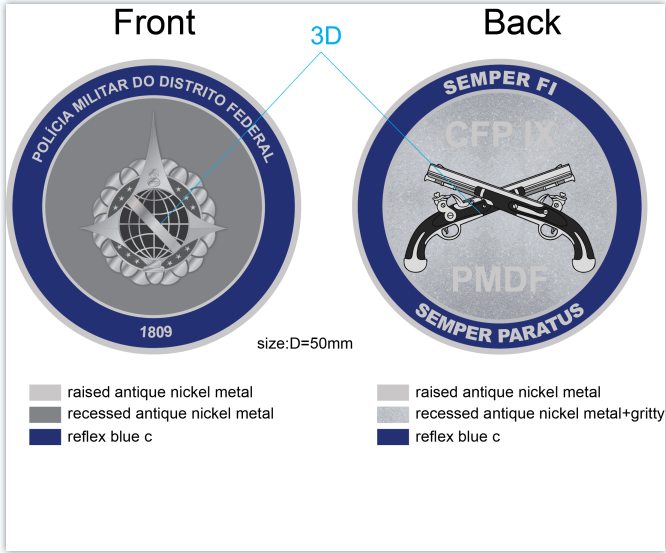 And then our worker of manufacturing is also passionate about their daily working in order to make high quality air force pride coins, Marine Corps Rank coins.
From below finished photo of Navy Veteran coins,Navy Unit Coins,Navy Award coins
You are able to see the details of the coin which is outstanding quality compared to other facilities. See the smooth and crisp wording,smooth soft enamel finishing,smooth detailed 3D logo,raised and recessed metal in very good contrast to make the logo more vivid.
Especially for the gun logo,the details on the gun and the handle and the spanner is very real. This is all because the professionalism and passion of our worker so they are not tiring of doing repeated work at daily basis but also require themself focus on excellent work during the manufacturing of Disney Challenge coins,Gold coins,Silver coins.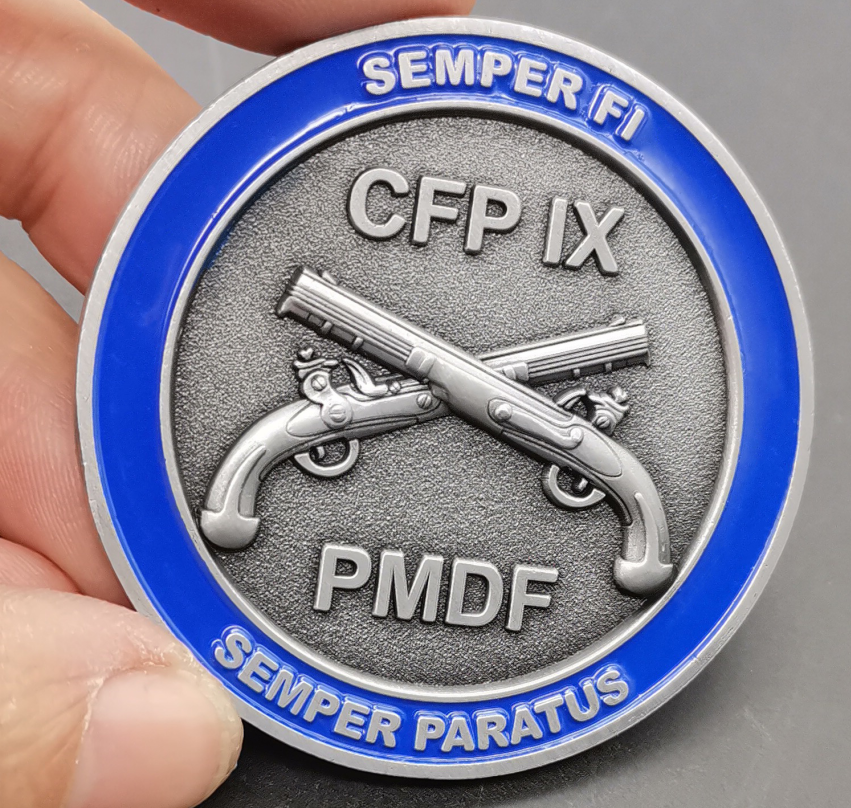 If you are looking for a reliable and long term supplier for custom enamel challenge coins,army award coins,army family coins,coast gurad pride coins,disney coins,Vetern Coins,Engravable coins,Disney Commemoratives,etc. We are not only professional about all kinds of custom challenge coins,we are also professional about all kinds of lapel pin,badge,emblems,insignias,enamel pins,service pins,custom pins,flag lapel pins,stock pins,medals,sports medals,metal medals,Marathon medals,Awards Medals etc. Aohui Badge Gifts is one of your best options as supplier.Check out by sending us email or call us at phone.
Below is our lastest standard plating reference chart for our production range.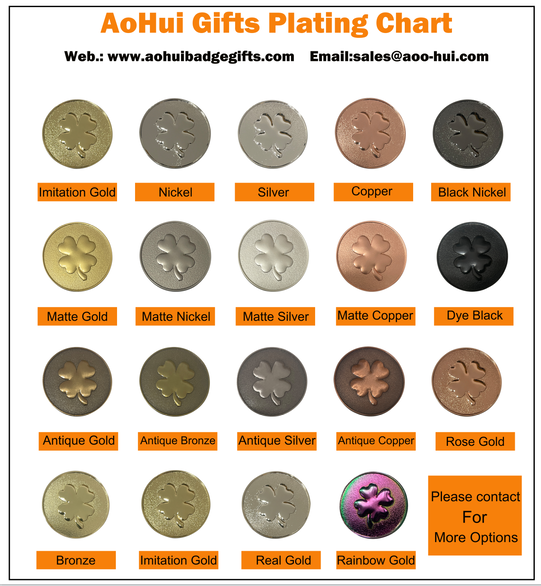 ---
Post time: Jun-10-2022