Chinese Labor Day was one of golden holiday period in the past,the other one is the National Day which is at Oct.01. It is also known as International Worker's Day and it's for all the working people all over the world.
During 2021,there was an adjustment on publice holiday by government,so 7 days holiday has been shorten to 5 days now which still including 2 days of weekend however it didn't shorten the meaning of this festival. We should always remember the hard working people all over the world and because of them,the world is getting richer and richer and people have better and better life.
In 2022,Aohui Badge Gifts follows instructions from government and we will be on holiday from April 30th to May 03.
During this period:
For our staff,per happy management culture basis,we hope our staff could enjoy themself during holiday,have a good time with their friends and family and at the mean time,with pandemic,please stay safe during holiday.
For our customer,during the holiday,since our production line is going to closed and sales is on holiday,we might not be as prompt as working hours to response however we still have certain time to response any of your inquiries of new order or inquiries of ongoing orders.
Finding a reliable supplier for custom enamel lapel pin,custom enamel badge,custom challenge coins,custom commemorative coins,custom medals,custom sports medals,custom keychains,custom champion belt buckles,custom trophies,custom bottle openers,custom tie clips,custom cufflinks,custom bookmarks,customer fridge magnets,etc. during public holiday,
Please feel free to drop us an email via sales@aoo-hui.com. One of our co-worker will get back to you shortly.
You might find no reponse from your current supplier during this public holiday and you might some urgent requirements need to be responsed. Feel free to contact us,we are professional manufacturing for custom enamel lapel pin,enamel badge,enamel emblem,insignia,challenge coins,sports medals,marathon medals,event medals,gold medals,etc. Custom enamel keychains,custom belt buckles,all kinds of bottle openers,custom trophies,cufflinks,tie clips,bookmarks etc. Who is the only one will arrange sales to reply to you during public holiday.Your are important customer to us as always and your inquiries will get attention and replied shortly.
Our standard plating chart for reference.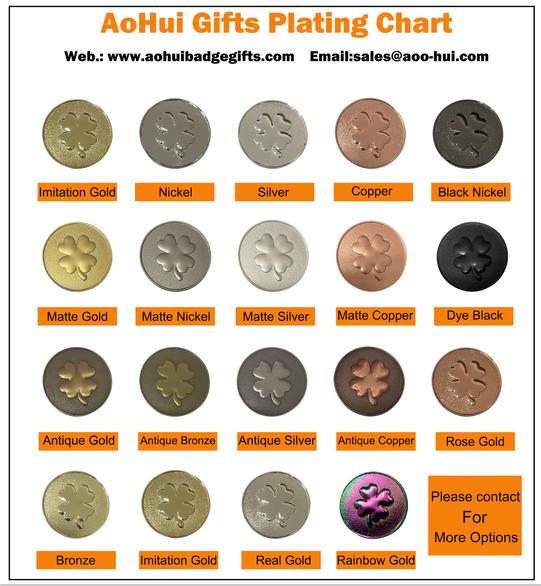 ---
Post time: Apr-25-2022