When customers are designing the lapel pin,they are wondering what's the most plating they can use for the lapel pins,badges,emblems, insignia , enamel pins etc.except normal gold plating,nickel plating,copper plating,antique plating,matte plating etc.
We do have a very special plating to recommend,it's rainbow gold per our below examples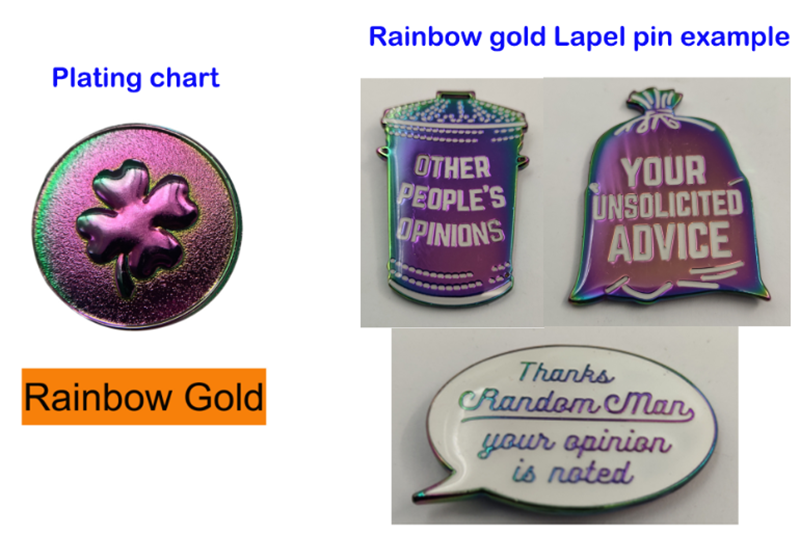 As a professional and capable manufacturer of all kinds of custom lapel pin such as service pins,name badges,flag lapel pins,flower lapel pins,hard enamel pin badges,soft enamel pin badges,cooperate pins,recognition pins,baseball pins,trading pins,stock pins baseball player pins,baseball enamel pins,safety pins,veteran pins,world flag pins,etc.rainbow gold plating is our specialty and our advantage,we can keep quick speed and competitive cost on manufacturing this.
As above example,rainbow gold can be applied with soft enamel process or with glitter process or with epoxy dome process.
The step of manufacturing rainbow gold is one more step than the usual common plating such as gold or nickel or bronze or copper or antique etc. .
The very first step for rainbow gold should go with nickel coating as basic coating bofore doing rainbow gold which ensure rainbow gold finishing can be smooth and strong.then it will goes as normal process as other plating. As always,we will do 100% inspections after plating and during finished products as well to enable the goods such as number pins,latter pins,alphabet pins,rainbow pins,nursing pins,sport pins,star pins,state flag pins,varsity pins,die struck pins,USA enamel pins,3D cast pins,membership pins,charity pin badges,poppy pins,commemorative pins,commemorative badges,pin brooches,Ruby pins,1-1/4 Inch service pins etc.from our factory is 100% in good conditions so customer would have perfect experience of working with us and our products.
Also lapel pin such as ribbon pins,hinged pins,sliding pins,LED flashing pins,community service pins,hanger pins,blinker pins,glitter pins,puzzle pins, also are recommended to be applied with rainbow gold plating as well,it definitely would make the lapel pin more shiny and attractive and outstanding from the other common plating.
Aohui Badge Gifts is a reliable and long term supplier for custom lapel pin such as
holloween badges,spinning pins,Disney pins,Disney enamel pins,Pop Mart Pins,999 silver lapel pins,pure gold lapel pins,magnetic lapel pin,staff badges,christian lapel pins,crown lapel pin,police badge,medical lapel pin,pearl lapel pins etc. Aohui Badge Gifts are not only professional on common plating,we are also good at other special outstanding plating such as rainbow gold,vacuum plating or anodizing which will be introduced in next stage. Follow us or give us a like to encourage us. Aohui Badge Gifts is one of your best options as supplier out there.Below is our lastest standard plating reference chart for our production range.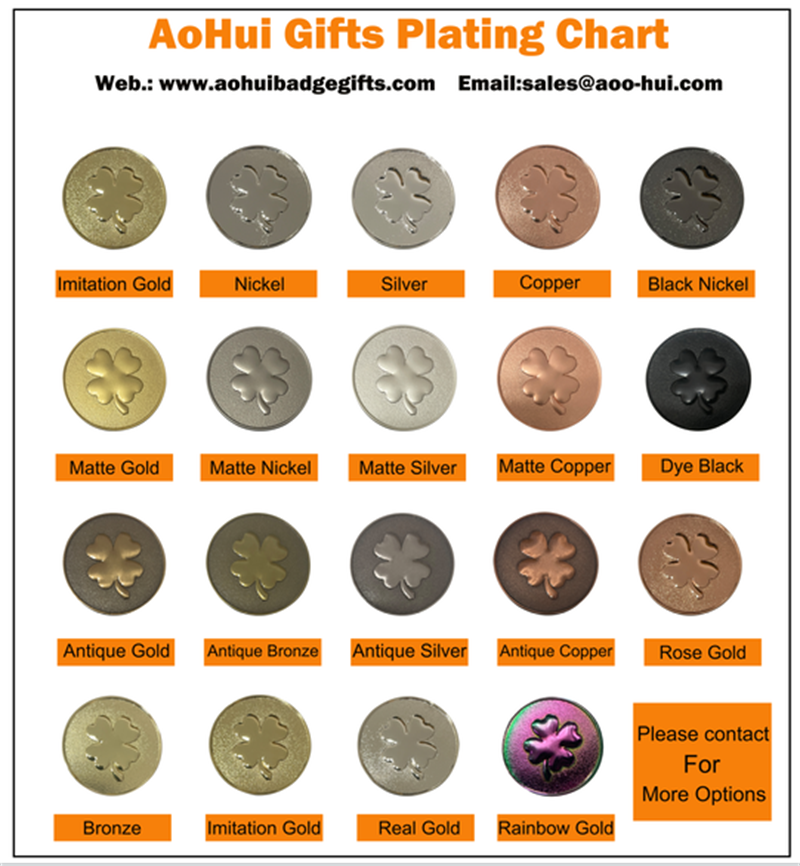 ---
Post time: Aug-16-2022